The Kims met through David Kim's Father, an Officer in the Salvation Army in Korea. He was in the United States and she was in Korea. They spoke on the phone for 3 months and then decided to meet for the first time in Korea. The rest was history. They married in 2010 and have one daughter, Irene that is now 3 years old.
The Kims theme for this year is "Love in Action". They state, "Our first goal is loving others with actions, which will include serving our community and congregation with physical needs. Our second goal is to bring a younger generation to the Corps. We plan on making our goals a reality by not judging others and showing a good example within the congregation. We would also like to make disciples for building a youth ministry team."
My name is David Kim and I am a Lieutenant in The Salvation Army. I grew up in Seoul, South Korea and moved to the United States at 22. My first place in the United States was beautiful Anchorage, Alaska, where great people made life here easy. I attended Nzazrene University and obtained a degree in Ministry of Music. I have been in the army my entire life, my parents are officers in Korea and it was a wonderful experience seeing the impact it had on the community at a young age. In my free time I enjoy playing soccer and when I can't play I enjoy watching it.
I am a person who really loves everything about the Salvation Army and wants to share his love with our community. Sometimes, people look at us as some type of the army or military group because of our uniform, But we infact are just people who wants to help others with spiritual needs. The reason I choose to join The Salvation Army was the youth groups and mission trips to other countries that I was involved in, in high school. The Salvation Army is a wonderful organization who that loves to help others and I am happy to be a part of it.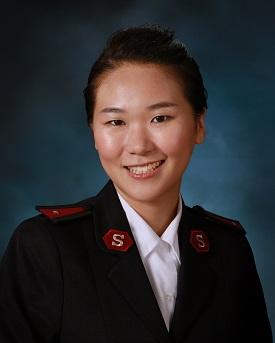 My name is Sharon Kim and I am currently a Lieutenant in the Salvation Army. I grew up in In-Cheon in South Korea and moved to United States in 2010 after I married David. The first placed I lived in the United States was San Jose, California and It was the perfect place to adjust to a new culture. I attended Sang-Myung University in the South Korea, Crestmont College in LA and obtained a Bachelor's degree in Fine Arts and an Associate of Arts in Ministries. I love to plan events and projects such as, festival and youth camps. Art and Music have always caught my attention and I believe that God is using me to develop a Christian art movement for this generation.
The army taught me who is Jesus Christ and what salvation can do for you. It effects me in both my personal life and beliefs as a Christian. I learned the meaning of being a servant through my work in The Salvation Army. I am still learning to be a good servant in God's eyes and I will continue to do my best. The army provided me many opportunities to serve communities in a different ways such as visiting nursing homes, orphan centers, and kittling during Holiday seasons. The army always led me to think about others who needed help. Thus, I have been excited to start new programs that work with our army family in the community. I realized that God called me to work for him through the Salvation Army, I am now working in full time ministry.
The Kim's are here to help, for further assistance or information you can stop by, call at 510-793-6319 or email directly Lieutenant David Kim or Lieutenant Sharon Kim.